Grease Separators
Fully developed products compliant with international standards
Grease separators need to be adaptable and versatile, and be available in various sizes and materials to meet the enormous range of different industrial and commercial needs. ACO has many years of experience in the production of grease separators. Its comprehensive product line includes free-standing and underground grease separators. Precise engineering and in-depth expertise guarantee fully developed, quality-assured and completely tested products that satisfy all international standards.
The ACO product line has an optimum solution for every application. Free-standing grease separators are manufactured from stainless steel or polyethylene. In addition to the two materials, there are also two disposal systems: partial and complete disposal.
ACO separators are designed with easy installation, operation and maintenance in mind to ensure full customer satisfaction. ACO produces separators from corrosion resistant stainless steel, glassfibre, polyethylene, and other materials.
---
Meat processing
Kitchens
Restaurants
Grilling, roasting- frying kitchens
Motorway services
Catering facilities
---
ACO Grease Buster
Biological Waste Control Fat Trap Solution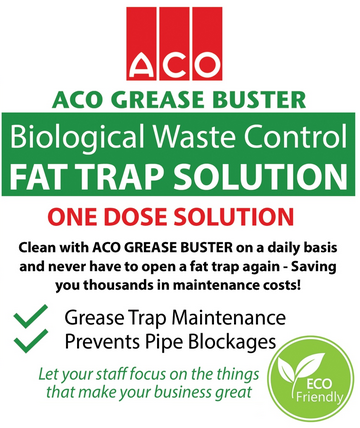 ACO launched a Biological Waste Control Fat Trap Solution, called the ACO Grease Buster, to assist with reducing maintenance costs on grease traps!
The advanced bacterial consortium in the ACO Grease Buster produce the requisite enzymes to rapidly degrade and break down fats, oils, greases, proteins, and starches found in grease and fat trap environments. Regular dosing with ACO Grease Buster completely eliminates grease and oil, and permanently converts into water and carbon dioxide! It removes odours and digest the solids into water, and open drain lines.
The ECO FRIENDLY ACO GREASE BUSTER is fully food safe certified and compliant.
Where to use the ACO Grease Buster
Restaurants Groups

Hotels
Hospital Groups
Food and Beverage production plants
Butcheries
Abattoirs
Forecourts
Residential apartments
Fast Food Outlets
---
Biological Grease trap Catalogue download